Brad Venable
Contributor IV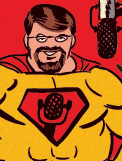 Joined: 23 Feb 2008
Posts: 129
Location: Dallas, TX, USA
Posted: Wed Jun 01, 2011 10:30 pm

Post subject: "Book It" with MaryLynn Wissner - Dallas - July 23

---

L.A. Casting Director MaryLynn Wissner come to Dallas to teach the cool tricks it takes to be the voice that stands out to the people that matter most...the ones with the power to hire you!

Over a 22 year career, MaryLynn has cast thousands of voices...and she will share secrets that will make the casting game work in your favor!

In this special one-day intensive, you will learn:



-What Casting Directors and Producers want to hear
-Important skills for self-direction: how to breakdown a script, make the right choices and make your auditions stand out!
-How to turn Blocked into Booked! Book National spots & campaigns!
-Easy home studio set-up & successful marketing ideas



For booking details, head over here: http://goo.gl/EWEyq
_________________
Brad Venable
The Voiceover Superhero!
"Saving the world thirty seconds at a time."