Philip Banks
Je Ne Sais Quoi



Joined: 20 Jun 2005
Posts: 10368

Posted: Wed May 20, 2020 5:31 am

Post subject: I checked the official numbers and with the real experts

---

Hyperbolistics, the language of the Voiceover Gurus. They talk of growth, incomes, jobs, auditions etc, yet there is not one authoritative source for these numbers. Let me be clear, there is NOWHERE you can check the claims made. Contact me to get your FREE VO-Bullsh*t filter.
_________________
www.philipbanks.com
I am NOT a brand!
Lee Gordon
A Zillion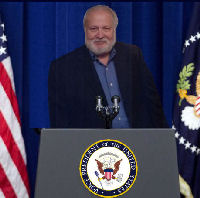 Joined: 25 Jul 2008
Posts: 6532
Location: West Hartford, CT
Posted: Wed May 20, 2020 8:43 am

Post subject: Re: I checked the official numbers and with the real experts

---

Philip Banks wrote:
Contact me to get your FREE VO-Bullsh*t filter.



Does it come in "Political," too?
_________________
Lee Gordon, O.A.V.
Voice President of the United States
www.leegordonproductions.com
Twitter: @LeeGordonVoice